Mendel Observatory at Merrimack College
The Mendel Observatory, on the top floor of Palmisano Hall, houses an Optical Guidance Systems 20-inch Ritchey-Cretien reflector and a number of electronic imaging systems.
Weather Line
978-837-5011
Images
Alert: Due to the COVID-19 outbreak and Merrimack's vaccine requirement for campus visitors, the Mendel Observatory is closed. We will reassess the policy this spring. 
About Us
Location: Fourth floor, Laurence J. and Roberta M. Palmisano Hall at Merrimack College
Public Access: Wednesdays at dusk or 7:30 p.m. (whichever is later)
Merrimack Community Access: Weekday nights, weather permitting.
Weather line: 978-837-5011
The observatory is used by students, faculty, the North Shore Amateur Astronomy Club and the general public.
Follow us on facebook for updates on observatory hours and schedule changes.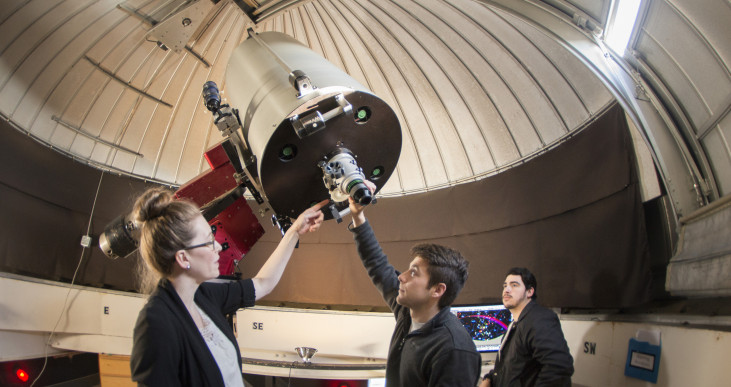 Wednesdays: Open to the Public
Alert: Public stargazing at Mendel Observatory is closed for the fall 2021 semester due to COVID-19. 
With the support of volunteers from the North Shore Amateur Astronomy Club, the observatory hosts public stargazing every Wednesday night, weather permitting, starting at dusk or 7:30 p.m. -whichever is later.
When special astronomical events of interest occur, such as a total lunar eclipse, the observatory often holds special viewing times.
Open to Merrimack 
This year we are also running student-led Star Parties at the Observatory. The event takes place roughly once a week, weather permitting, and the opening status each week can be found on the observatory Facebook page. Come and join us as we observe planets, double stars, the moon and deep space objects, such as galaxies and nebulas. The entire Merrimack community - students, faculty and staff - are welcome. 
News: Northshore Magazine Profiles the Observatory
Weather Forecast, Andover, Massachusetts

Contact Us
Christopher L. Duston
Assistant Professor of Physics
Director, Merrimack Observatory
Palmisano 223
978-837-3491