Meet Interim Dean Janet Whatley Blum
Learn more about the Dean of the School of Nursing and Health Sciences.
Janet Whatley Blum Biography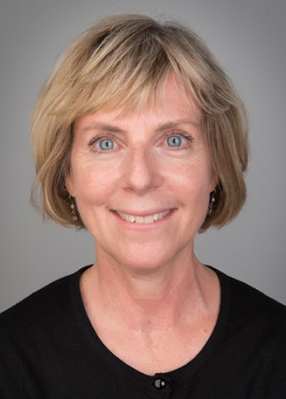 Dr. Janet Whatley Blum was named interim dean of Merrimack College's School of Nursing and Health Sciences in 2019. A clinical exercise physiologist and research nutritionist, her scholarly work focuses on the prevention and treatment of obesity in adults and children.
Her research portfolio includes large, randomized clinical trials, as well as community and public health-based research. She has examined state rulings and federal laws that impact the nutritional environment in public schools, particularly around the availability of sugar-sweetened beverages and foods of minimal nutritional value. Blum has also collected data on healthy lifestyle management in college-aged students with an emphasis on beverage consumption patterns, physical activity patterns and other lifestyle factors such as sleep and stress management.
Prior to Merrimack, Blum was chair of the Department of Exercise, Health and Sports Sciences at the University of Southern Maine and director for the exercise science program. While at Southern Maine, she oversaw the day-to-day operations serving more than 480 students and led the development of the department's mission statement.
Blum has also served as an assistant professor at Westfield State University, teaching courses in nutrition and fitness testing, and overseeing health and fitness internships. Before Westfield State she was an assistant professor at the University of Nebraska at Kearney.
She is past president of the New England Chapter of the American College of Sports Medicine and is a member of the American Public Health Association.
Blum received her bachelor of science degree in health and physical education from the University of Maine, her master of science degree in clinical exercise physiology from Northeastern University and her doctor of science in nutritional sciences from Boston University.

Contact Interim Dean Blum
Interim Dean Janet Whatley Blum: At A Glance
Prior Institutions
University of Southern Maine
Westfield State University
University of Nebraska at Kearney
Research Interests & Portfolio
Public school nutrition environment, including availability of sugar-sweetened beverages
Prevention and treatment of obesity in adults and children
Community & health-based research
Public school compliance
Healthy lifestyle management in college-aged students
Education
Sc.D, Nutritional Sciences, Boston University
MS, Clinical Exercise Physiology, Northeastern University
BS, Health and Physical Education, University of Maine
Memberships
American Public Health Association
New England Chapter of the American College of Sports Medicine (past president)